THINKING OF BUILDING OR RENOVATING YOUR SWIMMING POOL OR TERRACE?
TECHNIHOMES, S.L. IS A COMPANY SPECIALISING IN THE CONSTRUCTION OF SWIMMING POOLS AND TERRACES, AND GARDEN LANDSCAPING, ON THE COSTA BLANCA
The finishing touch to your home: a sparkling blue pool set in spacious terracing – perfect for soaking up the sun and so inviting on a hot day! There are so many beautiful designs to choose from and a host of attractive surrounds – from natural stone to wooden decking – that will enhance any style of villa. Add some palms and ornamental flowerbeds and you will have created a focal point that will provide you with years of enjoyment. Specialist technical advice is essential and Technihomes, S.L. has the experience and knowledge to ensure a successful outcome and your total satisfaction.
We have built a wide range of pools on the Costa Blanca, at houses and villas in Jávea, Calpe, Moraira, Altea, and Dénia and we have many satisfied customers willing to endorse our work.
POOLS FOR PRIVATE HOMES, COMMUNITIES, URBANISATIONS, SPORTS FACILITIES AND HOTELS
There are many procedures when building a pool, depending on the characteristics of the location and site on which it is to be built. At Technihomes, S.L. we recommend building a shotcrete basin, whether it be for a private home, community, urbanisation, sports facility or hotel.
The finishes to the pool will depend on the choice and requirements of each client, all with the advice of our team of professionals. You will be able to choose the surfacing or tiling within a wide range of pool tiles which come in a variety of colours and types, with pictures or friezes that, when combined correctly, give that special genuine touch to each pool.
The pool edge can be made from natural stone, with a multitude of colours and textures – both smooth and rough – which in conjunction with the pool itself can create a fun mosaic for a more attractive finish. Another option is artificial stone, pre-fabricated or made in situ, joined to emulate real stone but avoiding any lifting or sinking due to ground shifting or weather conditions over the years. Another good choice is IPE wood decking which, being very stable and hard, makes this type of decking a fantastic complement when used to surround a pool, or as exterior flooring for a porch, terrace or dining area.
EXCLUSIVE DESIGN POOLS
We can design and build your pool according to your tastes and preferences, all with the advice of a team of professionals who are well integrated and experienced in the building industry. As a challenge we can design and create a unique space for each of our clients, because we appreciate that each client has different needs and requirements, therefore your pool design can be personalised in each case, thus allowing you to enjoy a unique spot in the world.
A COMPANY SPECIALISING IN TILING
Spain is well known for the design and quality of its tiles and bathroom fittings. The amount on offer is never-ending, thus allowing any idea you may have in mind for your kitchen or bathroom to be easily created. However, expert advice is required to ensure a finish which is both functional and attractive. The first aspect to take into account when choosing tiles for a new build or refurbishment is where they will be used; it's not the same to tile a kitchen as a bathroom, a terrace with a pool or one without, or much walked-on areas such as halls and dining rooms as opposed to those that are less used.
There are problems that can be avoided simply by making use of the knowledge of a team of professionals, and Technihomes, S.L. has a wealth of knowledge gained over the years. We offer practical advice regarding which materials to choose to guarantee your dreams come true.
Mainly, there are three types of well differentiated surfaces: standard tiles, ceramic tiles and porcelain tiles. Each type is designed to cover a certain requirement, for example, standard tiles to surface kitchen and bathroom walls, ceramic tiles are used for interior flooring, and porcelain tiles are used for exterior flooring, areas that are much walked-on or are more exposed to water and/or chemical agents.
A COMPANY SPECIALISING IN FLOORING AND PAVING
At Technihomes, S.L. we are experienced in using all types of flooring or paving, whether it be marble, terrazzo, granite, ceramic, porcelain, hydraulic or clay tiles, or resillas.
We specialise in the use of both small and large format terrazzo, as well as any other type of ceramic or porcelain tiles, whatever their size or method of placement. We can use them to tile any surface, such as mortar or any other existing underlying paving.
A COMPANY SPECIALISING IN PAVING STONES
This type of paving has been used since way back when, due to its versatility, durability and lack of maintenance. Paving stones have a list of very important advantages such as their ability to be used more than once, especially when re-laying flooring after services such as electric lighting and drains have been installed (this happens quite often in towns and cities) Furthermore, these do not suffer degradation when in contact with oils or other combustible materials, and they can be used to create very expressive designs.
There is a wide variety of paving stones with different shapes: rounded, square, lineal, interlocked etc. They are usually made of granite, but nowadays there are also pre-fabricated pieces made from concrete which are available in a range of colours. When designing their placement one can choose from a series of layouts using different types, shapes and colours. They are generally laid on a sand or gravel base, or on a layer of concrete.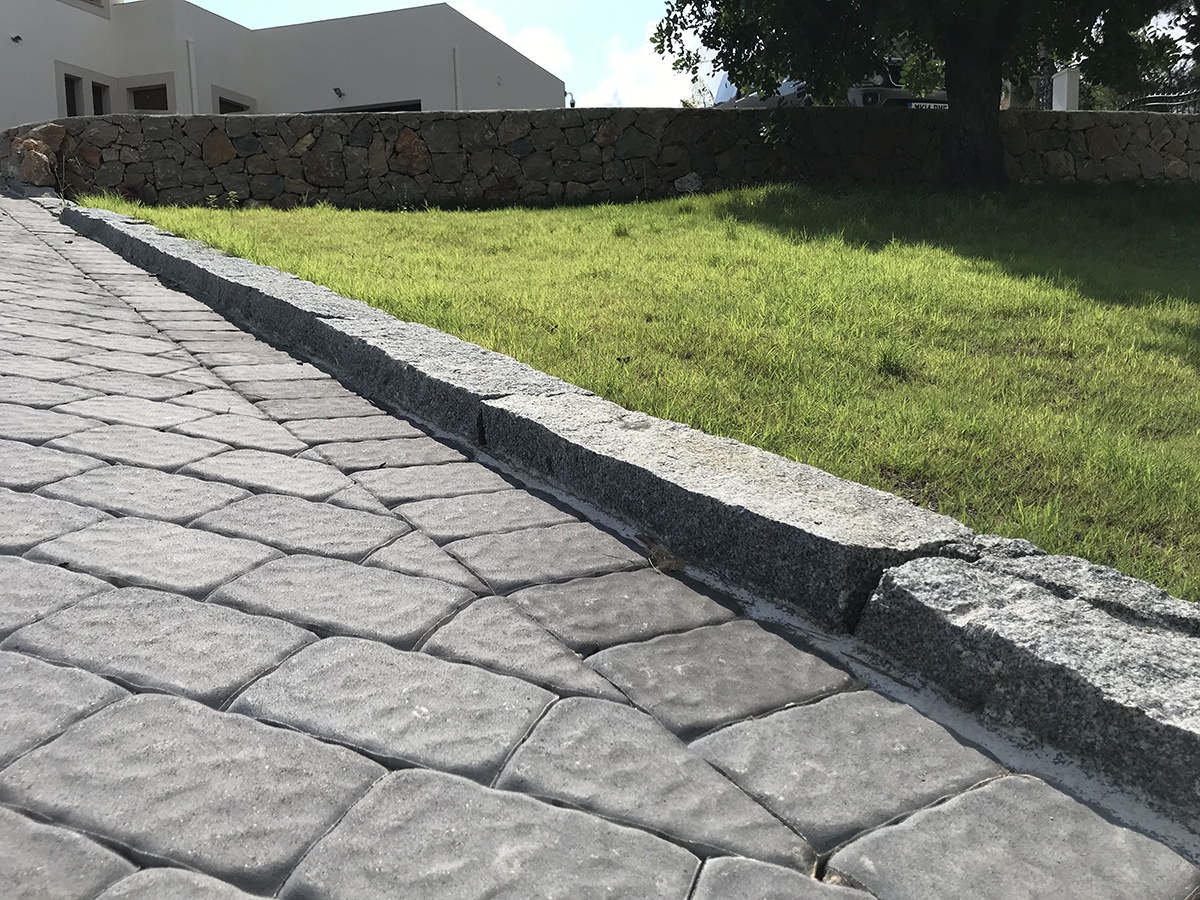 ¿WOULD YOU LIKE A GARDEN AS BEAUTIFUL AS THE INSIDE OF YOUR HOME?
TECHNIHOMES, S.L., A COMPANY SPECIALISING IN GARDEN CONSTRUCTION AND LANDSCAPING FOR PRIVATE HOMES, LUXURY VILLAS, URBANISATIONS AND RESIDENTIAL COMPLEXES
 It is important to add the finishing touches to your property, paying special attention to landscaping the garden. Stone walls, flowerbeds, paths, paving, terracing, barbecues, fencing, gravel beds – not to mention the plants! Technihomes, S.L. can bring design flair and building experience with equal skill and quality to the exterior as well as the interior of your home or residence.
With regards to garden design, the main advantage will be on-hand advice from our experts in Mediterranean climate landscaping, and in tree and plant adaptation to each individual site, whether it be near the sea or in the mountains. We can help you to choose the best environmentally resistant plants and trees and draw up a design taking into account the climate and your aesthetic tastes; an attractive combination of colour and well-adapted plants. We aim to optimise garden maintenance costs, which will be taken into account when creating the project, thus ensuring a perfect coordination of concepts when designing your home's garden. All this for a competitive price, within an agreed time and with a view to the growth of the flora on your land.
ENJOY A CUSTOM-MADE BARBECUE AREA IN YOUR GARDEN OR ON YOUR TERRACE
There is nothing more enticing than a barbecue on a beautiful sunny day. A few grilled steaks, refreshing drinks and good company make for the perfect plan. The climate in Spain, and more specifically on the Costa Blanca, is ideal to thoroughly enjoy a good barbecue.
Before building a barbecue area it is important to take into account its location within your property; the site must be well ventilated which is why an outside spot is recommended, whether it be in the garden or on a terrace. Other factors to take into account are the use you intend to give it, its dimensions and its design, i.e. what type of barbecue you desire. At Technihomes, S.L. we recommend barbecues built with rustic ceramic materials, heat-resistant bricks, natural stone etc., thus creating an area in your garden or on your terrace which not only allows you to cook, but which is also a decorative focal point.
BARBECUE AREAS DESIGNED FOR YOUR SPECIFIC NEEDS
We build simple but appealing barbecues which will more than cover your needs, but which also serve as well-integrated decorative pieces. We also build more sophisticated bespoke barbecues using all necessary elements you may want to indulge in to further enjoy a more comfortable and enjoyable time outside with your friends and family, such as: natural ovens, woodsheds, dining areas, porches, bathrooms, bars etc.
At our company we will help and advise you with regard to the many possibilities, quality of materials and costs when choosing the elements to be used, as well as the design so that it suits its surroundings. This guarantees total satisfaction: a project which covers your requirements, at the best price and with the most suitable design.
IN LOVE WITH NATURAL STONE?
A COMPANY SPECIALISING IN NATURAL STONE CLADDING AND MASONRY
One of the most attractive features of many properties in the local area is the use of natural stone. Flat stone is frequently used for paths, driveways or as a finishing surface on walls – whether free-standing in gardens or on houses – whilst the use of solid block stone makes for elegant retaining walls.
Stone masonry is a traditional technique consisting of the placement of natural stone, styled solely with a hammer. It can be used to build or clad walls of any type or to fill in facades, creating a characteristic rustic finish. Stone masonry walls are a traditional and very efficient option, having been used in buildings throughout history. Whatever your requirements, Technihomes, S.L. has the builders and professional craftsmen, as well as the necessary experience to complete your project.
WE USE NATURAL STONE MASONRY ON WALLS, FAÇADES, ARCHES, COLUMNS, FLOORS AND OTHER SURFACES
Natural stone is usually mined from quarries. Stone masonry is one of the oldest known professions, and natural stone is the best material when it comes to conservation, and without a doubt the most suitable for building. Natural stone is an attractive alternative to other building materials given its quality, strength, durability and texture. Many historic buildings throughout the country serve as testament to its beautiful aesthetic and endurance over time. It is ideal for building walls, façades, arches, columns, floors and other surfaces.
TOSCA STONEWORk
Tosca stone is one of the most traditionally used throughout the Valencia area, as is made evident by a multitude of monuments, civil buildings, monasteries and churches. At Technihomes, S.L. we have craftsmen specialising in tosca stonemasonry, such as arches, columns, pillars, fireplaces, fountains, mouldings, cornices, balustrades, swimming pools and both interior and exterior surfaces. We can apply this type of craftmanship to any project or idea a client may have, in a totally bespoke way.
Logo 1
Logo 2
Logo 3
Logo 4
Logo 5